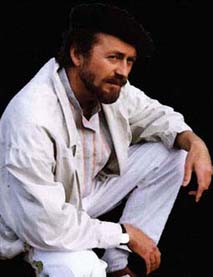 Theis Eljas grew up as the son of an artist in a small fishing town between Copenhagen and Elsinore. In a very early age he was trained in art techniques and art philosophies by his father and the many artists and writers being friends of the house...

Eljas has been a full-time artist for more than thirty years only interrupted by part time teaching in the late seventies.

He is living in an old 16th century estate in a beautiful forest area in Southern Sweden.
See map!.

Read about his formal background, about the last ten years' exhibitions, some critique or the bibliography. Visit the studio or read the article about the artist by Art Critic S. Staalnacke or the interview made by Culture Editor Sune Johannesson.
Visit the studio or take a personal contact with the artist


"The Eye of the Last Humanist" 1998

Stockholm Art Fair 2000
(represented by City Art Gallery)
Galleri Ibstinans
Copenhagen 1996

"Blues Chorus"
Critic's Choice 1995
The Osby
House of Culture