UNITING THE FIGURATIVE AND THE ABSTRACT
His esthetics unites figuration and abstraction into an expression - approaching that of the surrealists. In his paintings he speaks on behalf of mankind and makes the spectator explore his own spirituality.

Beauty and a mastership in the pastel technique, warm earth colours, an intimite tone and a magic light, bring to the works of Theis Eljas an uncopiably artistic quality...

Lia Kasper - Gazette Pro Arte (CH)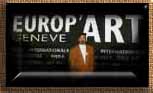 SUCCESFUL AT THE GENEVA ART FAIR

Theis Eljas, the artist from Axhult, reaches more and more progress on the international art market.

New York, Copenhagen, Geneva a.o. are eagerly waiting for exhibitions signed Eljas..."

Dan Rosengren, editor(S)
AT ART HALLS IN SOUTHERN SWEDEN



"To me the potential beauty and the riddly magic in the art of Theis Eljas are less static and more obvious in his computer art.
In all the experimental frenzy I find new options grounded on an old pictorial language. It elevates, with subtile overlays and explosive manifoldness, temperature and tempo, and it gets easier to be carried away, both by the seriousity and the playful fantasy of the works.
Ake Holmqvist, cultural editor (S)

Theis Eljas is well known to the art audience in southern Sweden. Not long ago he had a huge exhibition in Trelleborg and now his works are shown at the Falsterbo Art Hall.
Eljas has a peculiar style and a very own color scheme, where earth colors are completed through soft green, red and yellow tones as captured from nature.
This is not only to be seen in his paintings, but also in his computer works.
Theis Eljas performs a genuin technical skill, whether he uses the brush or the computer pad. The feeling for form and color is constantly present in the pictures.
Sometimes he leaves the figurative mode. Three abstract digital artworks (Dungeon I-III) stick to my mind with their stone shimmer.
They are beautiful and pure. Images, where the technique is the tool and the artstic picture is the goal.
Helena Holmkrantz, art critic (S)